I feel an impulse to divide my log into work log and spirit log. Professional and soul activity are on separate tracks now, both active yet completely unrelated. The mixture proves to be water and oil, and I end up writing mainly about one side and making a puny reference to the other.
I will continue having a work log, but then I will put down the spiritual insights in pieces of a different kind: essays, aphorisms, stories, poems, etc. This is to warn the habitual reader: for a time, my work logs will lose their spiritual moisture.
I expect the double-vision to merge into a single image when I tackle personal projects again.
---
I came to inhabit the home of a cousin during a week, while he's on a trip to Argentina. It's a spacious, modern and uncluttered home. I might as well snap a picture of it: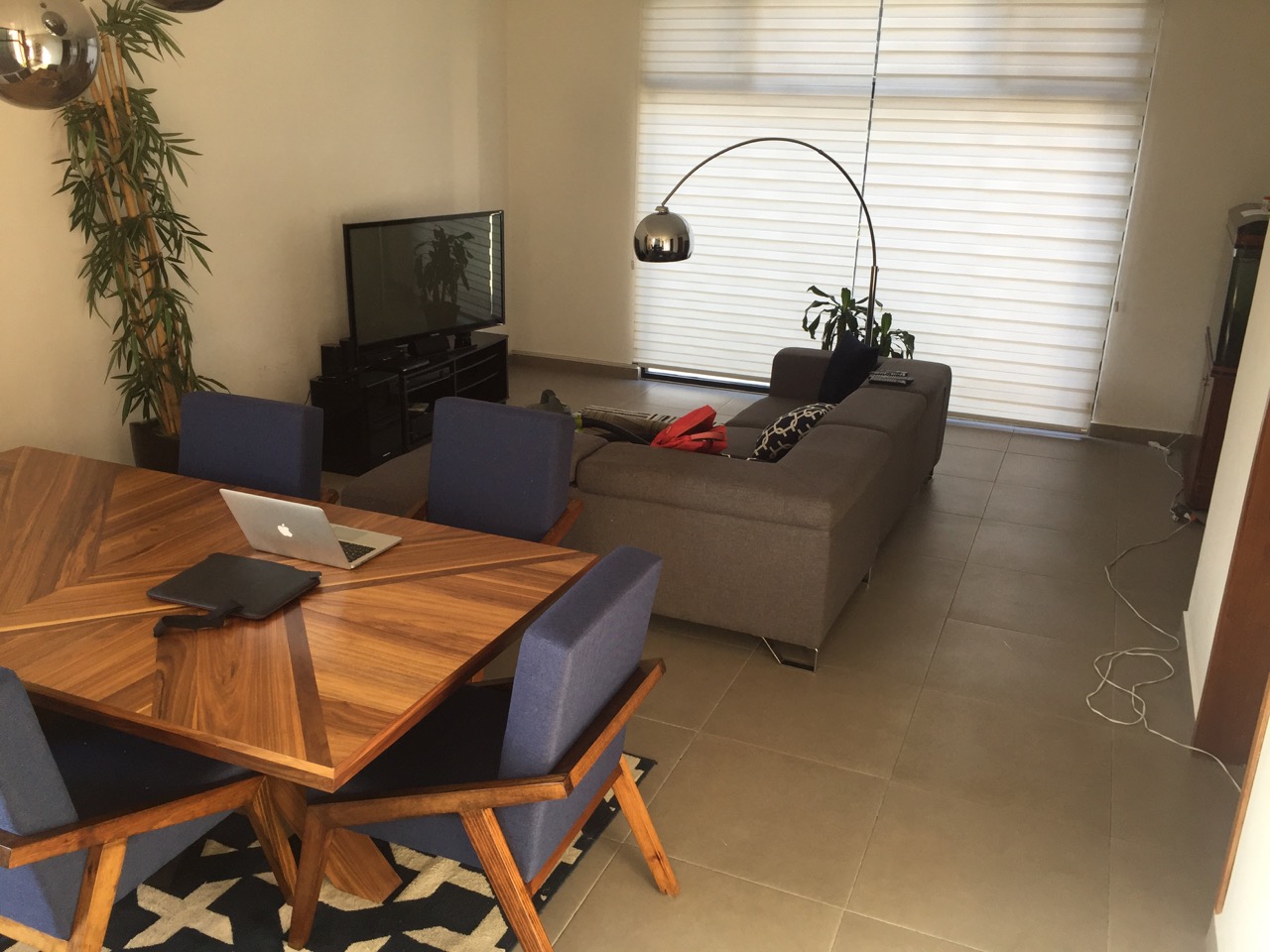 It has, however, two affectionate cats and I found it impossible to work with them twirling around my legs, so I searched for the nearest public library, which was too far for my disposition. I was a bit saddened by this discovery: this home is well located and the city has the same population as Madrid, but its public infrastructure could be compared with a town of perhaps 100,000 in Europe.
So, instead of heading to the library, I went to the nearest Starbucks (sigh) which was in a mall. But instead of Starbucks I found a café in a grocery store called City Market, which appeals to those with European tastes (sigh), and put myself to work.
Work did not come easy: those moments when you are first getting familiar with a development stack are frustratingly unproductive. It seems ease of use is squeezed around like a balloon: setup is a breeze, but then including a customized icon can be a headache. Then waiting three seconds for everything to recompile is frustrating for a person who designs with code.
The modularity of modern web development has squandered the talent of many web artisans. A similar thing happened in the Arts and Crafts era, when objects begun being mass produced there was a big sacrifice in love, personalization and aesthetics. The upside, however, was quality of life for all of humanity. In the same way, this modular way of building applications makes it possible to solve problems which are not necessarily financially rewarding (applications for NGOs and long-tail problems).
Before leaving for home I shopped for groceries at City Market. Out of my frugal habits I grabbed a jar of lentils and a jar of chickpeas. Then I did a double take and checked the price: the equivalent of 2,50€ each. Oh yes, I'm in Mexico. I grabbed two cans of beans for one third of the price.